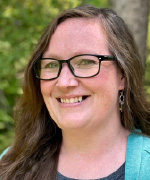 Amanda received a Masters with honors in Counseling from Midwestern Baptist Theological Seminary in Kansas City. Before becoming a counselor she was a public school teacher for four years and a private school teacher for two.
Amanda is a Provisionally Licensed Professional Counselor who provides individual and family counseling, focusing on a variety of issues. She works with grief, divorce, blended families, dealing with chemo brain, depression, and communication issues.
Amanda is an Integrative Christian Counselor, bringing together biblical knowledge and faith with different counseling theories and evidence-based therapy. She uses Cognitive Behavioral Therapy (CBT) and Solution Focused Therapy as well as other approaches to provide quality care. She strives to develop strong therapeutic relationships that draw on the strengths of individuals and pushes the need for self-care. She works with children ages 9 and above, teenagers and
adults.
Amanda is happily married with four wonderful daughters. Amanda has survived divorce, tragic loss of her only sibling, a miscarriage, walking beside her husband through the battle of cancer, and the suicide of her father. She is an avid reader of fairytales beause we all need a reminder of happy endings. Amanda still loves science and misses solving complex math problems from her days of teaching.
Amanda is working under the clinical supervision of Marc Dipoto, LPC.