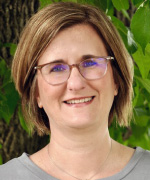 Jennie has a bachelor's degree in business from Baylor University and a master's degree in counseling from Midwestern Baptist Theological Seminary. Jennie's first career was in corporate America in the field of information technology. After marrying her friend and coworker, she was blessed to stay at home with their two sons.
Becoming a Christian counselor has been the realization of a lifelong dream. Jennie's clinical approach is client-centered with a focus on cognitive behavior therapy and mindfulness. She loves to filter life's issues through the truth of Scripture while working to understand each individual's biological, psychological, social, and spiritual concerns. Jennie provides individual as well as marriage and family counseling and enjoys helping clients with a wide range of issues including anxiety, depression, grief and trauma.
When not counseling, Jennie is happiest at home with her husband and boys. She loves to read true crime books and have deep conversations with friends over coffee.
Jennie is a provisionally licenced professional counselor working under the clinical supervision of Marc Dipoto, LPC.