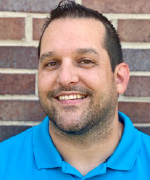 Brandon Foster received his Bachelor's degree in Psychology from William Jewell College and is pursuing his Master's in Clinical Mental Health Counseling from Liberty University. Before his Internship at Dipoto Counseling Group, Brandon worked as a Reintegration Specialist for foster care children and as a case manager for low-income families in the Kansas City area. He also worked in a severe autism room for an elementary school and as a Community Support Specialist in Joplin, Missouri, for children and adolescents with emotional and mental health disorders.
Brandon has ample experience with children and adolescents as well as individual and group counseling techniques. He has experience with Cognitive Behavior Therapy (CBT). Brandon also integrates Christian counseling at the comfort level of the client.
Outside of counseling, Brandon spends his time coaching his son's football and wrestling teams and volunteering at his church with his wife. He is passionate about sports, having been a collegiate athlete, and is an outspoken advocate for the LGBTQ+ community.
Brandon is an intern working under the clinical supervision of Marc Dipoto, LPC.