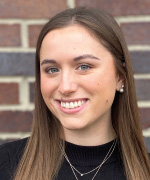 Victoria received her Bachelors in Psychology from Missouri State University and her Masters in Counseling Psychology from the University of Saint Mary. She provides individual counseling to kids, teens, young adults and adults. She particularly enjoys working with clients dealing with anxiety, depression and grief. Victoria utilizes person-centered and cognitive behavioral therapy, as well as other treatment frameworks to provide counseling that is specifically tailored to each client and their counseling goals.
As a youth, Victoria competed in gymnastics for 8 years and has been a gymnastics coach for the past 4 years. In her free time, she enjoys hanging out with family and friends, reading a good mystery, doing yoga and watching TV.
Victoria is a Counselor in Training working under the clinical supervision of Marc Dipoto, LPC.