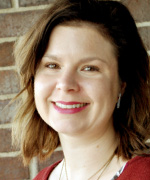 Cassie Dennis holds a Dual Master's Degree in Counseling and Art Therapy from Kansas City's Avila University. She has 10 years experience as an art therapist and counselor. Cassie has worked in multiple psychiatric hospitals in the Kansas City area before entering private practice. Through these experiences she has worked extensively with children, adolescents and adults. Cassie specializes in working with patients experiencing life transitions, self-esteem issues, anxiety, depression, self-expression and grief issues.
Prior to entering the field of counseling, she received her undergraduate degree in Studio Art from Drury University in Springfield, Missouri. After graduating, she worked as a professional photographer and artist for 7 years. She started and owned a gallery in Springfield that housed 12 artists and invested in art openings and special events monthly for the community.
What is art therapy?
Art therapy is a tool to assist individuals who struggle with finding the right words to express how they feel or what they are going through. The great thing about art therapy is that anybody can participate, no artistic skill is required for this therapeutic journey. Art therapy is more about the visual expression and the story that forms when using various art mediums with guidance from Cassie during the process. With the use of art therapy, clients gain insight quickly, practice ways to let go of perfectionism and increase confidence for self-expression.