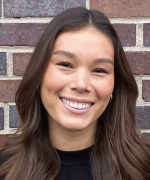 Valerie received a Bachelor's Degree in Psychology from Missouri State University and a Master's Degree in Counseling Psychology from Avila University.

Valerie is a bilingual Christian Counselor who provides individual counseling and enjoys working with various populations. She works with children ages 5-12, adolescents, adults and Spanish speaking clients. She specializes in depression, anxiety, life transitions, self-esteem and relationship issues.

Valerie utilizes Person Centered and Cognitive Behavioral Therapy as well as other approaches tailored to best fit the client. She values feedback, is passionate about helping empower clients, and believes in the importance of developing a strong therapeutic relationship with each client.

During her free time, Valerie enjoys browsing the candle aisles at stores, finding new restaurants around KC and playing music trivia with her husband and friends.
Valerie is a provisionally licensed professional counselor working under the clinical supervision of Marc Dipoto, LPC