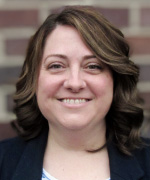 Jenn received her Bachelor's Degree in Psychology and Master's Degree in Clinical Mental Health Counseling from Walden University. Jenn is a Provisionally Licensed Professional Counselor who provides individual, couples and family counseling. She works with grief, anxiety, depression, mood disorders and autism spectrum disorders. She uses Cognitive Behavioral Therapy (CBT) and Solution Focused Therapy to help clients reach their therapeutic goals. Jenn has a passion for children and teenagers. She speaks "preteen" and understands the patience needed to connect with young people.
In her free time Jenn likes to spend time with her family, which includes her three sons. She enjoys puzzles, Dungeons and Dragons, and playing golf.
Jen is a provisionally licensed professional counselor working under the clinical supervision of Marc Dipoto, LPC.