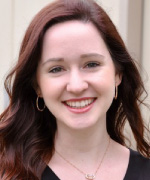 Sarah received her Bachelors in Communications from Southwest Baptist University, and her Masters in Counseling from Midwestern Baptist Theological University.
Sarah provides individual and couples counseling and enjoys working with clients with anxiety, depression and trauma. She particularly enjoys working with adolescents and loves to get creative in treatment approaches. Sarah also works with kids, young adults and adults. Sarah is a Christian Counselor and primarily uses Cognitive Behavioral Therapy. However, she draws from multiple treatment frameworks to provide counseling and treatment that is specifically tailored to each client and their counseling goals. She believes the therapeutic relationship is important and takes time to develop a healthy, working relationship with each client.


During her free time, Sarah enjoys hammocking, reading, coffee, exploring Kansas City, watching baseball, movie nights, and spending time with family and friends!